While tidying up our office recently, we happened upon this interesting Sun Microsystems magazine advertisement. The ad doesn't directly name hardware giant Dell, but the reference is beyond obvious: "Given how hot and slow our competitor's servers are, it's no surprise their name RHYMES WITH HELL." To see a full-sized version of the ad, click the image below.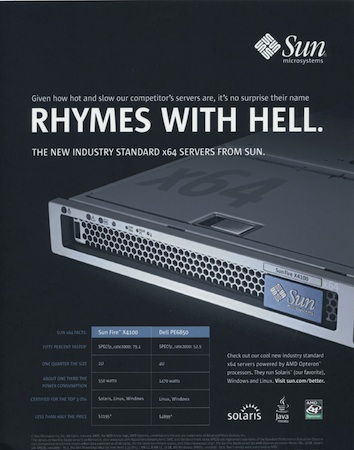 The ad compares the Sun Fire X4100 to the Dell PowerEdge 6850. The former is 50 percent faster, one-quarter the size at 1U, consumes about one-third the power and is less than half the price than the other. When the ad ran, the Sun X4100 had a list price of $2,195, while the PE6850 was at $4,899. The X4100 is also compatible with more operating environments than the PE6850 (Solaris, Linux and Windows).
Sun Microsystems was comparing a Sun Fire X4100 equipped with two AMD Opteron Model 280 processors and a Dell PE6850 with four Intel Xeon processors. The ad tells readers to "check out our cool new industry standard x64 servers." A web address in the ad – sun.com/better – now redirects to a page on Oracle.com about Sun Microsystems' acquisition.
Another ad we found also rips into Dell, but not as viciously. The ad, pictured below, touts the Sun X4100 as being 150 percent better than the Dell PE6850. It claims the Sun system is 50 percent faster and 66 percent more energy efficient.