Sun Blade 6048 Chassis
The Sun 6048 Chassis, also known as Sun Blade 6048, leads the industry in performance, efficiency, power and dependability, all while coming in a package that's shockingly small.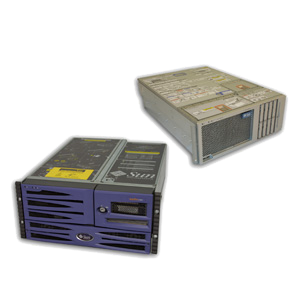 Description
---
Sun 6048 | Sun Blade 6048 Chassis
Looking for a system that packs a powerful punch while remaining relatively light and small?  The Sun Blade 6048 Chassis, also known as Sun 6048, might be just what you're seeking. Thanks to its unique design, the Sun 6048 weighs some 500 pounds less than competing chassises of its type. What's more? The Sun 6048 uses up to 17 percent less energy than its competitors.

Not only does the Sun 6048 free up space, it also eases concerns for organizations operating on upper levels and makes installation and maintenance significantly easier. But Sun Microsystems did not sacrifice performance in making the Blade 6048 less cumbersome: In fact, it provides 129 percent more computing cores per rack when compared to its competition.

Anticipating the need to grow in the future? No worries. Thanks to its scalability features, the Sun 6048 can hold 48 Sun blades and 768 processing cores per rack and has eight power-supply modules that support either 5600W or 8400W. The Sun 6048 supports all Sun Blade 6000 series server modules and Sun UltraSPARC, Intel Xeon and AMD Opteron processors.

Sun engineers designed the Blade 6048 to be powerful, efficient, reliable and flexible at the same time. By supporting the Windows, Linux, Solaris, VMware operating systems and general-purpose software, the Sun 6048 delivers on that front and then some. Sun designed the 6048 for tech-heavy industries whose applications include databasing, enterprise applications, high-performance computing and server consolidating and virtualizing. With the Sun Blade 6048, you'll know you have what you need to get the job done.

Call an Acclinet sales representative today at (603) 529-4220 or toll-free at (888)-4UNIXIT (603-529-4220) to learn more about the Sun Blade 6048 and other products in the Sun Blade 6000 family. While you're at it, ask us about our industry-leading, 48-month warranties on all Sun products.
Further reading on the Sun 6048: