Sun T2000 Server
The Sun T2000 is a truly environmentally friendly solution that in no way sacrifices performance in being energy efficient.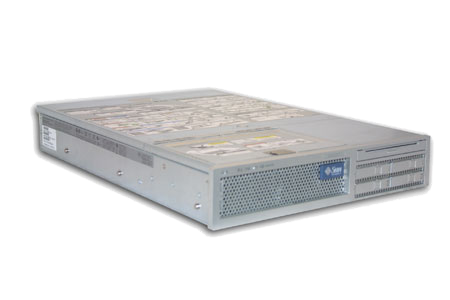 Description
---
Sun T2000 | Sun Fire T2000 Server
The Sun Fire T2000 Server runs 32 simultaneous threads while consuming much less energy than other systems in its class. Not only does the Sun T2000 outperform the competition, it does so using much less space. The Sun T2000 Server has earned a reputation as a remarkably eco-friendly solution that in no way sacrifices performance in being so energy efficient. Sun Microsystems engineers designed the T2000 for the toughest applications, including web serving, Web 2.0, streaming media, network infrastructure, virtualization and java application.

Equipped with a 4-core or 8-core T1 processor, the Sun T2000 scales to 64 gigabytes of main memory via 16 DIMMs and supports as many as four 73-gigabyte or 146-gigabyte 2.5" SAS drives for up to 584 gigabytes of internal disk storage. What's more, the Sun T2000 features redundant and hot-swappable fans and power supplies for added reliability.
Technology experts agree that the Sun T2000 is one impressive machine. InfoWorld.com said: "Sun's newly released Sun Fire T2000 UltraSPARC T1-based server isn't your daddy's server … (It) brings higher processing power into a smaller chassis, but with an important twist." And Network Computing concluded: "Sun has tapped into something smart here, given the highest cost of keeping data centers cool and the need to maximize without sacrificing performance."
Get a Sun T2000 Server Quote Today!
For pricing on the Sun T2000 Server, call an Acclinet IT hardware specialist today at 603-529-4220. While you're at it, ask about the industry-leading, up to 48-month warranties we offer on the T2000 systems we carry as well as other Sun Microsystems/Oracle servers, workstations and storage arrays!
Further reading on the Sun T2000 Server: