Sun T6300 Server
The Sun T6300 (Sun Blade T6300) server module is a monster solution.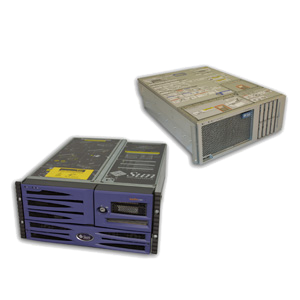 Description
---
Sun T6300 | Sun Blade T6300 Server Module
The Sun Blade T6300 server module is optimized for the Solaris operating system and offers a ton of processing punch. The Sun T6300 is comprised of a 6-or 8-core 1GHz, 8-core 1.2 GHz, or a whopping 8 core 1.4 GHz processor with multithreading and the SPARC V9 architecture. Each Sun Blade T6300 module also has the ability to hold up to 32 GBs of system memory.

If you're looking for a high performance AMD Opteron blade, the Sun Blade X6220 server module is right for you. The X6220 blade features two dual-core AMD Opteron 2000 series CPUs. These high-performance blades also features up to 64 GB's of system memory and 142 Gbps of throughput. To top off the Sun Blade 6000's capabilities, Sun has created the Sun Blade X6250. With the ability to hold one or two quad or dual core Intel Xeon 5000 processors, up to 64 GBs of main system RAM, and four SAS or SATA disks, the Sun X6250 pack a lot of power in a small package.

Not only does the Sun Blade T6300 deliver superior performance than competing systems, it's also more energy efficient. Thanks to Sun CoolThreads technology, the Sun T6300, powered by the Sun UltraSPARC T1 processor, will significantly lower your electricity costs and be less of a burden on the environment than other technologies. Sun engineers designed the Sun T6300 for the toughest computing applications, including virtualization, consolidation and web infrastructure. Equipped with 8 DIMM slots and four PCIe interfaces, the Sun T6300 is armed to more than handle your datacenter's most cumbersome needs.

If you're ready to learn more about the Sun T6300 and related Sun products, contact an Acclinet sales representative today by calling (603) 528-4220 or toll-free at 603-529-4220. While you're at it, ask us about our industry-leading, 48-month warranties on Sun T6300 systems and all Sun hardware!
Further reading on the Sun Blade T6300:
Sun T6300 Options: