Sun X8440 Blade
The Sun X8440, also known as Sun Blade X8440, can hold two times more memory than its competitors.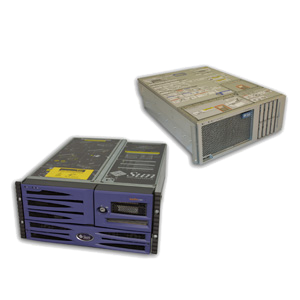 Description
---
Sun X8440 | Sun Blade X8440 Server Module
Looking for a server module that ups the ante on memory capabilities? Check out the Sun Blade X8440, also known as Sun X8440, which allows for up to twice the memory of its competitors. Equipped with AMD Opteron dual-core or quad-core processors and 32 DIMM memory lots, the Sun X8440 has the highest memory density among four-socket blades of its type.

Loads of memory is not all the Sun X8440 is capable of handling. As always, Sun Microsystems designed the Sun X8440 to be flexible. The X8440 supports the Linux, Solaris, Windows and VMware operating systems. Capable of up to 192 Gbps of I/O, the Sun X8440 is perfect for many demanding applications, including databasing, high-performance computing and server consolidating and virtualizing.

The Sun X8440 is compatible with the Sun 8000 and Sun 8000P chassises.

Contact an Acclinet sales representative today by calling (603) 529-4220 or toll-free at 603-529-4220 to learn more about the Sun X8440 server module and related products. While you're at it, ask us about our industry-leading, 48-month warranties on all Sun Microsystems products.
Further reading on the Sun X8440:
HPCwire: Sun announces quad-core Opteron-based blade server
ITBusinessEdge: Sun announces quad-core blade server