Sun X8450 Blade
The Sun X8450, also known as Sun Blade X8450,is a powerful server that allows you to grow as you need.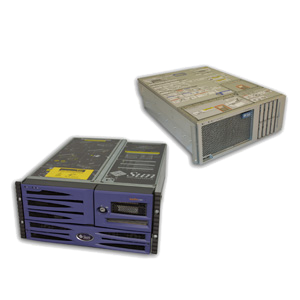 Description
---
Sun X8450 | Sun Blade X8450 Server Module
In the market for a dependable, powerful and energy-efficient server module that allows you to grow if necessary? The Sun Blade X8450 Server Module, also known as Sun X8450, offers two times the memory, network connectivity and storage abilities than its competitors, all while offering the flexibility for which Sun Microsystems is known.

The Sun X8450 is equipped with two or four Intel Xeon quad-core processors, four sockets that can hold up to 16 cores, 32 DIMM memory slots, as well as easily accessible Sun SAS and Sun SATA hard drives. For flexibility's sake, the Sun X8450 supports Solaris, Windows, VMware and Linux operating systems. Sun Microsystems designed the X8450 for many strenuous applications, including server consolidating and virtualizing, high-performance computing, databasing and managing clusters and grids.

Contact an Acclinet sales representative today by calling (603) 529-4220 or toll-free at 603-529-4220 to learn more about the Sun X8450 server module and related products. While you're at it, ask us about our industry-leading, 48-month warranties on all Sun Microsystems products.
Further reading on the Sun X8450: