Sun T5140 Server
Sun Microsystems engineers designed the Sun T5140 server for organizations looking to streamline, consolidate and shrink their datacenter operations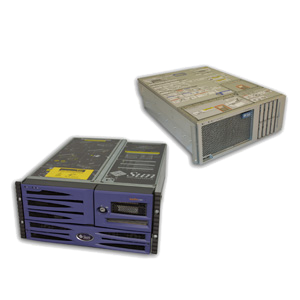 Description
---
Sun T5140 | Sun SPARC Enterprise T5140
The 1U Sun SPARC Enterprise T5140, powered by the Sun UltraSPARC T2 Plus processor, can handle 128 threads; a rack of T5140 systems can handle 5,120 threads. Sun Microsystems engineers designed the Sun T5140 server for organizations looking to streamline, consolidate and shrink their datacenter operations. Thanks to Sun CoolThreads technology, the T5140 consumes significantly less energy than previous and competing systems, which makes it cost effective as well as environmentally friendly.

The Sun T5140 comes equipped with 16 FB-DIMM slots that can handle as much as 64 gigabytes of main memory, four 10/100/1000 Ethernet ports and as many as four 73 or 146-gigabyte SAS disks for up to 584 gigabytes of additional storage. The Sun T5140 holds two 4, 6 or 8-core UltraSPARC T2 processors per system.
The Sun T5140 is not only high performance, it's also user-friendly. Sun's Predictive Self-Healing technology finds and fixes system errors before they bog your system down, and Sun DTrace allows for easy monitoring of the T5140's operations. Thanks to its advanced scalability features, the Sun T5140 allows you to pay for only what you need while leaving plenty of wiggle room for future expansions.

If you're interested in knowing more, an Acclinet sales representative will happily tell you all about the Sun T5140 and related Sun products. Reach one today by calling (603) 529-4220 or toll-free at 603-529-4220. Make sure to ask about Acclinet's industry-leading, 48-month warranties on Sun T5140 systems and all Sun hardware! 

Further reading on the Sun T5140 and related Sun products: