Sun V60x Server
The Sun V65x offers plenty of processing power as well as complete scalability.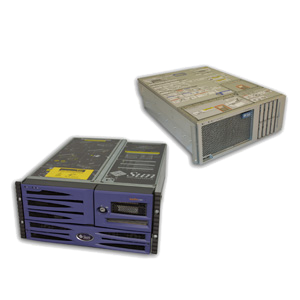 Description
---
Sun V60x | Sun Fire V60x Server
If your company requires flexibility in operating-system choices but prefers the quality and dependability of Sun Microsystems equipment, the Sun Fire V60x may be the server for your organization. With its 2.8GHz, 3.06GHz, or 3.2GHz Intel Xeon processors, the Sun V60x offers plenty of processing power as well as complete scalability. To allow full utilization of its processing power, the Sun V60x has a memory capacity of up to 6GB. As well as offering processing performance, the Sun Fire V60x also offers adequate storage features. It allows scalable storage by utilizing up to three 36GB, 73GB and 146GB drives that store up to 438GB.

Sun Microsystems designed the Sun Fire V60x for industries that require high-computing performance, including academics, world government, retail and financial services. For added flexibility, the Sun Fire V60x supports the Solaris, Windows and Linux (Red Hat Enterprise and SuSE) operating systems. For a solid datacenter solution that delivers top-notch scalability and flexibility, look no further than the Sun V60x.

When you're ready to learn more about the Sun V60x and related Sun products, contact an Acclinet sales representative by calling (603) 529-4220 or toll-free at 603-529-4220. While you're at it, ask us about our industry-leading, 48-month warranties on Sun V60x systems and all Sun equipment!
Further reading on the Sun V60x and related Sun products: