Sun V880 Server
For reliability and performance, look no further than the Sun Fire V880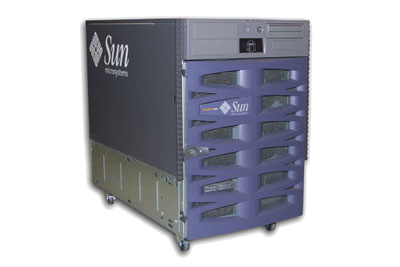 Description
---
Sun V880 | Sun Fire V880 Server
Is your company looking for a scalable, powerful, cost-effective and space-efficient server? If this is the case, the Sun Fire V880 is for you. The Sun V880 houses up to eight 64-Bit UltraSPARC III processors available up to 1200MHz. These allow the ultimate in performance for all your processing requirements. To keep up with its processors, the V880 server also has 16 DIMM slots per system board, which can contain up to 64GB of memory when eight processors are installed. For your storage requirements, the Sun V880 has an incorporated Fibre Channel disk system with available multipathing to all disks.

Systems are available with six 36GB, 73GB or 146GB disks, with a maximum of 876GB. Also, with an optional disk backplane, the V880 can hold six more drives, allowing the server to boast storage capacities of up to 1.7TB. On top of its great processing and storage capabilities, the Sun Fire V880 is also compatible with Sun's entire line of desktop and server systems and their applications. With Acclinet's extensive inventory and expertise, can be sure that your V880 will scale to meet your business's specifications.

If you're interested in knowing more about the Sun V880 and related Sun products, call an Acclinet sales representative today by calling (603) 529-4220 or toll-free at 603-529-4220. Acclinet offers industry-leading, 48-month warranties on Sun Fire V880 servers and all Sun hardware!

Further reading on the Sun V880 and related Sun products:
Sun Fire V880 Server Options: