Sun X4200 Server
The Sun Fire X4200 server offers many features that are sure to suit your needs.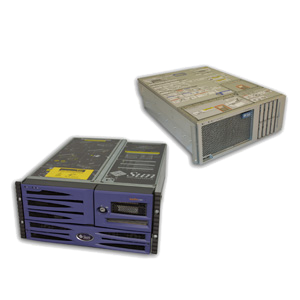 Description
---
Sun X4200 | Sun Fire X4200 X64 Server
By utilizing the power of AMD Opteron single or dual-core processors alongside top-notch Sun Microsystems components, Sun engineers have created a server your company can count on for reliability and excellent performance. The Sun Fire X4200 server offers many features that are sure to suit your needs, including: one or two single or dual core 200 series AMD Opteron processors, up to four hot swappable 36GB or 73GB SAS internal disks, fully redundant and hot-swappable power supplies, and the ability to run Solaris 10, Linux, or Windows operating systems. If you're looking for a versatile, affordable, and powerful system the Sun X4200 server is a great choice.

Compared to other systems in its class, the Sun X4200 uses significantly less energy. Not only will the Sun X4200 cut your organization's costs dramatically, it's also an environmentally friendly solution. At the same time, Sun engineers in no way sacrificed performance in designing the breakthrough Sun Fire X4200. With its myriad hot-swappable and redundant components, the Sun X4200 is built to last for the long haul.

Why take our word for it? The Sun X4200 has received plenty of praise throughout the tech world for its performance and efficiency. InfoWorld honored the Sun Fire X4200 in its 2007 Technology of the Year Awards, calling it "a serious server in a seriously well designed package." In his review, InfoWorld's Paul Venezia said: "As far as commodity Opteron-based servers go, the Sun Fire X4200 is near the front of the pack in design, performance and management. I could easily see myself building out a datacenter with X4200s."

If you're ready to learn more about the Sun X4200 and related Sun products, contact an Acclinet sales representative today by calling (603) 529-4220 or toll-free at 603-529-4220. While you're at it, ask us about our industry-leading, 48-month warranties on Sun X4200 systems and all Sun equipment!
Learn more about the Sun X4200 and related hardware:
Sun Fire X4200 Server Options: