Sun SL500 Storage Library
The Sun StorageTek SL500 Modular Library System, also known as the Sun SL500, is the answer to your data storage needs.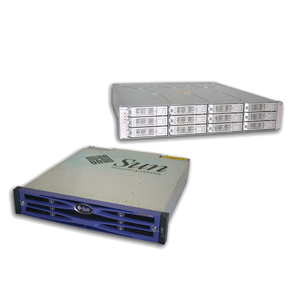 Description
---
Sun StorageTek SL500 | Sun SL500 Modular Library System
Looking for a data storage solution to solve your organization's hefty needs? Meet the Sun StorageTek SL500 Modular Library System, also known as the Sun SL500, a highly scalable storage system designed for mid-sized organizations. Scaling from 79 to 460 terabytes, the Sun SL500 delivers over 30 percent more capacity than systems of its kind.

Equipped with innovative robotics and redundant and switchable components, the Sun SL500 is built to grow as you see fit so you can rest assured you only pay for the storage you require. With the SL500, you can scale up to 575 LTO slots or 494 mixed media slots without hassle. The StorageTek SL500 also makes it easy for you to consolidate your data libraries to streamline your storage.

Sun Microsystems designed the Sun SL500 to meet the needs of many demanding applications, including disaster recovery, archiving, storage consolidation and scalable data backups. The Sun SL500 is perfect for organizations whose storage demands are large, but not big enough for the giant Sun StorageTek SL8500 Modular Library System.

Want to know more? Contact an Acclinet sales representative today by calling (603) 529-4220 or toll-free at 603-529-4220 to find out more about the StorageTek SL500 and related products. While you're at it, ask us about our industry-leading, 48-month warranties on all Sun products.
Further reading on the Sun SL500: