Sun Netra 210 Server
The Sun Netra 210 (Sun 210) server packs a powerful punch in a space-efficient design.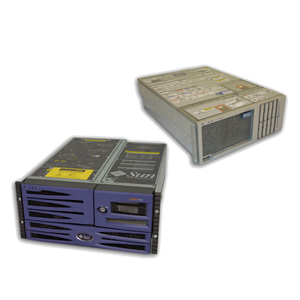 Description
---
Sun 210 | Sun Netra 210 Server
The Sun Netra 210 server, also known as Sun 210, may look small, but don't underestimate it. With its one or two 1.3 GHz UltraSPARC IIIi processors, the Sun 210 is a powerful entry-level server for anyone who's anticipating the need to grow in the future. Capable of holding up to eight gigabytes of memory, the single-rack Sun 210 features as many as two Sun SAS disk drives and four 10/100/1000 Ethernet ports. 

Need a server solution that can withstand tough environments? The Sun 210 is designed for just that. Sun Microsystems engineers designed the Sun 210 to handle applications such as defense and military intelligence, media gateway controlling and intelligent networking in the telco, manufacturing, energy and world government industries. The Sun 210 also comes equipped with security and maintenance features that make ensuring your server's integrity as simple as possible.

Want to know more? Contact an Acclinet sales representative today by calling (603) 529-4220 or toll-free at 603-529-4220 to find out more about the Sun Netra 210 server and related products. While you're at it, ask us about our industry-leading, 48-month warranties on all Sun products.