Sun V490 Server
The Sun V490 is built to perform flawlessly in strenuous environments.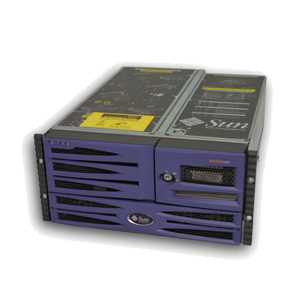 Description
---
Sun V490 | Sun Fire V490 Server
The Sun Fire V490 is a midrange server that won't empty your department's bank account and only takes up five rack units of space. The Sun V490 can hold up to four 1.05GHz or 1.35GHz UltraSPARC IV and, to ensure performance of vital programs, the V490 also contains eight DIMM slots per processor with a max of 32GB of RAM. For ultimate disk convenience, the V490 server offers two front-accessible, hot-swappable Fibre Channel disks in 73GB or 146GB options for a possible total of 292GB of storage space. The Sun V490 is also fully integrable with Sun Microsystems' line of storage products, including Sun T3,  Sun 3510 and Sun 3310 arrays. With its scalability capabilities and top-notch performance, the Sun Fire V490 server would be a great addition to any datacenter.

The Sun V490 is built to perform flawlessly in strenuous environments, including ones where tasks include IT infrastructure, business processing, business intelligence, data warehousing and application serving. In fact, the Sun V490 works five times faster and features double the memory of previous servers of its type. Thanks to Sun's Predictive Self-Healing technology, one needn't worry about the Sun V490 flaking out. The groundbreaking technology predicts problems and fixes them before they happen. If the errors do occur, error messages clearly indicate what the problem is and allows you to fix it quickly. The Sun V490 is also equipped with military-quality security features so you can rest assured you're safe from hacker attacks.

Don't take our word for it. The Sun V490 has earned accolades from within the computing world because of its reliable performance. TechWorld.com said in its review the Sun V490 delivers "great performance for the price" and "represents a step forward in RISC-based server technology."

If you're ready to learn more about the Sun V490 and related Sun products, call an Acclinet sales representative today at (603) 529-4220 or toll-free at 603-529-4220. While you're at it, ask us about our industry-leading, 48-month warranties on the Sun V490 and all Sun products!

Further reading on the Sun V490:
Sun Fire V490 Server Options: