Sun V890 Server
The Sun Fire V890 server is a truly versatile and scalable machine for your business.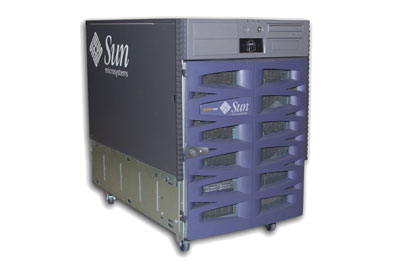 Description
---
Sun V890 | Sun Fire V890 Server
The Sun Fire V890 server is a truly versatile and scalable machine for your business. This computing powerhouse offers up to 8 64-Bit UltraSPARC IV processors available in 1.2GHz and 1.35GHz that provide processing power for all your organization's needs. To keep up with its processing power, the Sun V890 offers up to 16GB of RAM to each processor board for a possible total of 64GB of RAM, ensuring your critical programs run smoothly. Along with this, the V890 offers internal mass storage that can total up to 1.75TB comprised of 12 Fibre Channel drives in 73GB or 146GB options. If your storage needs exceed 1.75TB, don't sweat it. Acclinet can integrate your Sun Fire server with a variety of Sun StorEDGE products including Sun T3, Sun 3510 and Sun 3310 arrays. Couple the Sun V890 with Acclinet's 48-month warranty, and you have a computing machine that will reliably process and store your company's vital data for years to come.

Sun engineers designed the Sun V890 to tackle the demands of tech-heavy workplaces, including ones that handle scientific engineering and application development. In fact, the Sun V890 is five times faster than previous servers of its type and doubles the performance of Sun UltraSPARC IV servers of the same size. What's more, the Sun V890 protects itself from failure, allowing you to keep your organization running without interruptions. The Sun V890's Predictive Self-Healing technology finds problems and fixes them before they even happen. If an error does occur, messages clearly state what the problem is and allow you to repair it quickly. With its military-grade security features, you can rest assured that your Sun V890 will be well-protected from hackers.

Ready to learn more about the Sun V890 and related Sun products? Reach an Acclinet sales representative today by calling (603) 529-4220 or toll-free at 603-529-4220. While you're at it, ask us about our industry-leading, 48-month warranties on the Sun V890 and all Sun products!
Sun Fire V890 Server Options: